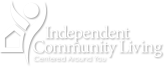 Support Independent Community Living


On May 1st!

We are participating in Give Local Midland this year. This is a one day giving challenge with 50 Midland area non-profits participating!

Independent Community Living is one of over 50 local nonprofit organizations participating in this one day giving challenge on May 1st.

Each gift goes further through a matching pool. In addition, prizes and incentives will be awarded to participating nonprofits throughout the day.

Imagine the impact we can have if we invite our entire community to give to local causes. Mark your calendar for May 1st, and please be generous to Independent Community Living and other non-profits in our Midland community!