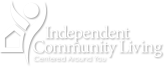 Thanks for All You Do -


Employee of the Month

Every month we select a Direct Support Staff individual who exemplifies our mission: To provide support to participants with a disability using self-determination to tailor their life according to their personal vision. We show our appreciation for their hard work and dedication by awarding them a $50 gift card!

Every year in December we pick an Employee of the YEAR who has done outstanding work with our participants. We couldn't do it without you!
Employee of the Month


Eron Hosford

Our March Employee of the Month is Eron Hosford. Eron is fun and patient. Eron has great follow through. Eron is helping people fulfill their goals. Thanks for all you do for the people you support!
Congratulations Employee of the Year -


Aliesha Kinney

Our 2017 Employee of the Year is Aliesha Kinney. Aliesha is committed to providing supports to the individuals she serves. Aliesha is kind and caring. She is pro-active when updating schedules. She is always willing to change her schedule to accommodate. Aliesha is always updating the entire team of information and changes. Thanks for all you do, Aliesha!