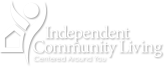 Cultivate a Culture of Gentleness -


Gentle Teaching

Gentle Teaching is an International training program. The techniques taught in Gentle Teaching are essential for caregivers working with children, seniors, individuals with disabilities or mental illness, or any individual presenting complex needs.

Gentle Teaching is based on the premise that all individuals have a right to feel safe and valued in their homes; with their families and caregivers, at their job, school, and other meaningful activities.

Independent Community Living is proud to offer Gentle Teaching certifications to individuals or groups beginning in Spring 2018!
Certify Your Team!
Individual Pricing Option
Classes are taught at the Independent Community Living office in downtown Midland
Include six hours of instruction (total of 12 hours for the class)
Classes are $100 per person
Group Pricing Option
We Come to You!
Schedule a class at your organization for 8-16 people for a group rate of $1200
Pay in advance via PayPal, in person or by mail. Cash, checks made out to Independent Community Living and credit/debit card payments are also accepted. Payment is also accepted when you arrive at class.
All Class Fees are Non-Refundable.
Note: When Midland Public Schools are closed due to inclement weather, our classes will be cancelled.